Welcome to Kostiuk Crew. April is my 1st Year Blogoversary. I first started blogging just to track my days and record my children's milestones. My oh my how it has became so much more! I never expected my blog to grow so fast in just one year. As a Thank You to all of my amazing readers I am hosting my first event. I am hosting 1 giveaway a day for the entire month of April, with some amazing sponsors!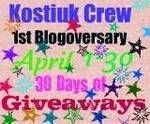 I would like to send a huge Thank You with lots of love to FunFritzFamily, who made me this special button. Head on over and take a look at her blog I am sure you will like what you see.
Post my Blogoversary Button on your blog anytime between now and March 28. Leave a comment on this post along with the link to your blog. You will receive 5 extra entries into all Blogoversary giveaways. I will have one giveaway a day for every day in April, every giveaway will end on May 1st.
Thank you to all of my lovely readers and I hope you enjoy:)